About EuroRhythm Dance Studio
Premiere Ballroom, Latin, Salsa, Swing Dancing in Scottsdale
OUR MISSION STATEMENT
EuroRhythm Dance Studio exists to guide, support and empower students, teachers and employees to discover their authentic excellence. We provide dance lessons and services in the playground of latin, ballroom and swing dancing to facilitate opportunity, structure, guidance and support for personal and collective growth and improvement.
EURORHYTHM DANCE STUDIO ADVANTAGES
Besides having experienced and accomplished instructors, Eurorhythm Dance Studio's advantage comes from our company's culture, values and focus on you and tailoring our approach and teaching to your unique journey. In addition to that, you should choose Eurorhythm Dance Studio because of:
Environment

At the EuroRhythm Dance Studio we pay special attention to one of the most essential aspects in person's development. While most of other dance studios are either too competitive "Dog eat Dog environment" and will achieve great short term results with serious negative long term cocenquences, or too laid back so your improvement is quite delayed , at EuroRhythm Dance Studio we believe in happy medium. We consistently encourage you to depart from safety of your comfort zone so growth and improvement can take a place. We foster supportive atmosphere, encourage you to make mistakes and offer guidance and tools to consistently improve.

Approach to Learning

Process, process, and process. Those words would best describe our approach to learning. While it is very important to succeed in everything that we do, we believe that, who you become while getting there, matter even more. Focusing on process and fundamentals will help you to acquire necessary skills on every step along the way, and reduce chance of gaps and holes in your learning. This comes very handy in playing game on very high level.
AWARDS

Our biggest award is to see consistent improvement and transformation of our students, teachers and employees on the road to achieving excellence.
As far as more specific ones: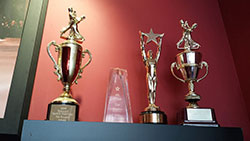 STUDENT AWARDS

World Champion Adults 2010
US National Champion 2010
World and US National Finalist ( multiple students) 2006-2013
World Champion Pre-teen 2009

STUDIO AWARDS

Ranked 4th in North America for year 2006
Best Dance Studio in Scottsdale, AZ for Ballroom Dance Instruction since 2008
Multiple Top Studio awards on dance competitions 2004-2015