Private and Group Classes
If you have watched Dancing With The Stars on ABC, then you are familiar with one of the adult programs that we offer at EuroRhythm Dance Studio. That is our SHOW PERFORMANCE dance program. In addition to that,we also offer SOCIAL DANCING and COMPETITIVE DANCING programs as well.
All of our programs are realized through combination of private and group lessons and appropriate party or event for each of them specifically.
Private Classes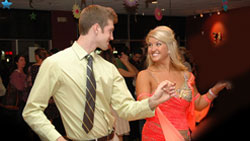 Private clases are definitely the best way for you to accelerate your learning experience. There is no substitute for working one on one with one of our excellent and experienced instructors. It is the quickest way to learn and be confident about your dancing. Whether you want to learn new steps and dances, work on technique, choreographing, or just want to have fun, we can help you get it done right.
Whether you are preparing for competition, a social event, wedding dance, or a performance, private classes are the best way to get it done. You can schedule them in times that are convenient for you, and we can tailor your program to meet your dancing goals. You can take private lessons by yourself, with a partner or small group of friends.
If you really want to learn to dance, we will get you hunting dance floors rather than running away from them. Learn about the styles of dance and how to get started dancing.
Group Classes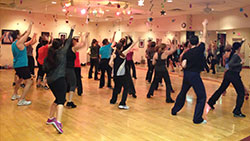 Group classes are an excellent way to enjoy your learning process in a friendly and fun group setting. Surrounded by people who share the same passion for dance, you will be improving your dance skills at a medium pace while having a lot of joy, fun and excitement.
In combination with private classes, group classes become an irreplaceable tool for your dance advancement with respect to your investment.
Current Group Classes Available
Open Dance Floor
Category: Social
When: Please see our class schedule for details.
This class is designed with the social dance student in mind. It is a great chance for you to try out and improve your dancing in a friendly and intimate studio environment before you go out in the clubs. You will meet a lot of people who share the same passion. You will dance with different partners and see what kind of leader/follower you are. Our instructors are always there to help you out with you questions as well. We have a lot of fun, play different games and dance our hearts out. No partner or previous dance experience needed.
Workshops
Category: Competitive
When: Please see our class schedule for details.
Workshops are usually designed with the competitive dancer in mind. The focus is on increasing competence in technical components of dancing. Usually a couple of topics would be chosen and applied in different dances in a very intense schedule (10 lessons within 3 days). You get tired, your body hurts but you feel extremely accomplished. Usually previous dance experience is required, No partner necessary.
Dance Parties
Category: Social
When: Please see our class schedule for details.
Now this is fun at full force. We choose different themes and play it up to every single details. Fun, Food, Costumes, Music, Ambiance, Great Times are all there to get you into another world. Make sure you bring your friends along they will love you for it. No partner or previous dance experience needed. Please see our class schedule for details.
Special Introductory Offer
Find out about our special introductory dance package of a blend of 4 private and group lessons for $55.